時戳伺服器(軟體)

(ADSS TSA)
---
與 HCA API 相容, 既有HIS/電子病歷程式不用修改
歡迎各大醫院來電試用
ADSS TSA Server 建置圖例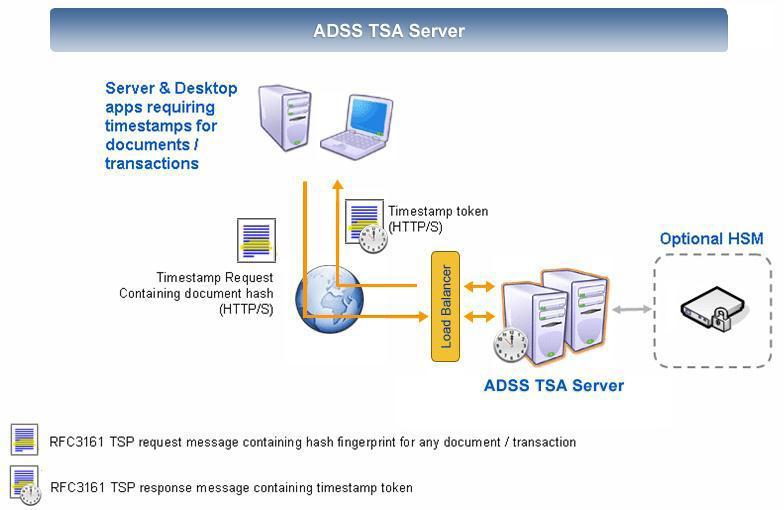 ADSS TSA Server 產品功能
A compliant RFC 3161 Server
Multi-platform Support
supports multiple HSM vendors
Multiple TSA Policies
Detailed Reporting
TSA Service 時間同步
If the internal system time and the time source time drift apart by more than a specified amount, an alert is sent to the ADSS Server operator.
If the time drift is too great then all ADSS Server services will be shut down and the operator alerted again.
Multiple TSA Policies
A single installation of ADSS TSA can run multiple TSA profiles each with their own time stamping policy and with unique timestamp server signing keys.
Advance Security
Algorithms & Key lengths
Maximum Security: SSL/TLS
Access Control
Real-Time Alerts
HSM
Effective Security Management
Secure Web-browser Interface
Operator Authentication & Authorization
Client application Authentication & Authorization
Secure Event and Transaction Logs
Management Reporting and Alerting
Key Management & Trust Anchor Management
Transaction Logs

Service Reports


Useage Reports

TSA Profile Reports

跨平台
Multi-platform Support
OS: Windows, Solaris and Linux
HSM: nCipher/Thales, Safenet
Clustering
For high performance needs, ADSS timestamp server can easily be installed as part of a load-balanced clustered environment
參考客戶
(2011/2/18) Europe: Ascertia wins British Library tender for next generation Time Stamp Authority Services
The British Library has selected Ascertia's ADSS TSA Server working with Thales Solo HSMs and Meinberg M300 GPS NTP Servers to provide an effective high volume, resilient, trustworthy source of timestamps to secure the data being ingested into the national Digital Library System. ADSS Server is able to deliver hundreds of SHA-2 RSA-2048 timestamps with time drift checking and alerting using alternative GPS time sources. This confirms Ascertia's dominance in supplying RFC 3161 and ETSI 102 023 compliant TSAs.
(2011/1/31) Americas: Local partner Latinus sells ADSS TSA Server to provide local timestamp services
(2010/12/28) Europe: ADSS OCSP Server and ADSS TSA Server selected by POVISA via Ascertia's Spanish Partner ITC21
(2010/9/10) Africa: Ascertia Supplies another ADSS TSA Server to the South African Government
(2010/9/7) Europe: Ascertia Supplies another ADSS TSA Server to Serbia

產品比較
比較項目
nCipher DSE200
ADSS TSA Server
產品型式
Hardware Appliance with HSM
Software with optional HSM
時戳效能(1024-bit key)
150次/秒
約50~100次/秒
信任時間源
外部 NTP Server 或 TMC200
時間不準會停止服務
外部 NTP Server或外接GPS Time Server
時間不準會停止服務
安全性
在不安全環境下仍能保持高安全性
最好在安全環境下(機房)
稽核與追溯
若使用TMC200可追溯時間來源
Log & Report
價格
Expensive
Cheaper

---
請與我們連絡(02-77128295), 安排展示與提供試用